Welcome to NBA Live Wiki,
The wiki for the NBA Live (series) that anyone/anybody can edit, now we have 27 articles.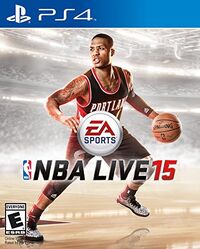 Latest Video Game
NBA Live 15 is a basketball video game for the PlayStation 4 and Xbox One released on October 28, 2014 in North America and released on October 31, 2014 in Europe. NBA Live 15 features Damian Lillard of the Portland Trail Blazers as its cover athlete. The release date was moved due to EA Sports wanting to polish the title before release.

Ad blocker interference detected!
Wikia is a free-to-use site that makes money from advertising. We have a modified experience for viewers using ad blockers

Wikia is not accessible if you've made further modifications. Remove the custom ad blocker rule(s) and the page will load as expected.